Day 11: Stopping the addiction
Jas (The Ginger) and Morgana (The Vegan) are undertaking the Zero Waste Challenge: finding ways to refuse, reuse, reduce, and recycle as much as possible in their lives, and ask you to join them on their journey.
The Problem
Remember how this whole thing started with Starbucks? (see our intro to the challenge)
Well, ten days in, Jas is diving into how bad the whole buying-coffee-in-a-shop thing really is.

The results are in: It is indeed quite bad. Not only for your wallet but for your Mother Earth.
While TECHNICALLY possible, it's really really hard to recycle disposable cups. Less than one percent ever make it to that stage. They are one of the worst products of our hectic lifestyle. The problem is so bad that even in 2018, coffee shops don't know how many cups they are responsible for. Noone wants to face the ugly truth. This vicious cycle of caffeine consumption via disposable cups is the scourge of our precious earth, and we should say no it once and for all.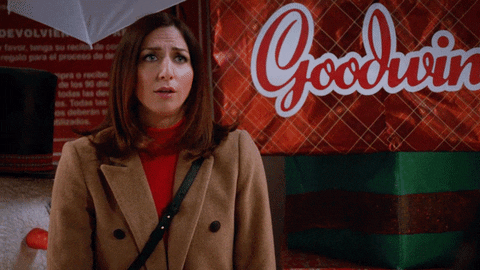 The thing is... Jas is SHAMELESS addict. Honestly, paying a bit extra seems like a reasonable deal to get good coffee. We've all seen those calculators that show you how much your "habit" costs you, and for Jas coffee easily runs into the hundreds every year.
So how does she go about being an addict, better? Obviously, she is not going to rely on instant coffee. She has pride and standards, if only on this matter.
Solution Number 1: Reusable cups
You go to Starbucks, you buy coffee and proudly, nobly, hold out your reusable cup to be filled with your basic beverage of choice. The world sings as a new wave of environmentalism takes hold, plus disposable cups are soooooo 2018.
Solution Number 2: Buy your own beans
You go to an indie coffee shop that has coffee that smells like chocolate but is too expensive to visit every day. You straight-up buy their coffee beans. You accompany this with the purchase of an aeropress/cafétiere/percolator/filter depending on your budget and snobbery level. You make your own coffee at home, put it in a reusable container, and take it with you on your journey. All the progressiveness points in the world go to you.
Here is Jas on that journey to a better life.
Evaluation
The perceived effort level of this trade is highly dependent on the human doing it. For some people, this looks easy. They can see the benefits in saving money, being able to track the beans, and it doesn't really derail their life. For others, it's a big change. Maybe they have an awkward commute and it is just easier to buy their caffeine right next door to work, or they share a kitchen with 10 people who would totally break/steal their equipment.

For Jas, this was easy, and the smell of fantastic coffee at home was enough to sway her from her café residing habit. It's also really good to have at home for hangovers or spontaneous weekend continental breakfast productions.

Jas recommends giving this a go. It might surprise you how much home brewing doesn't ruin your routine/addiction.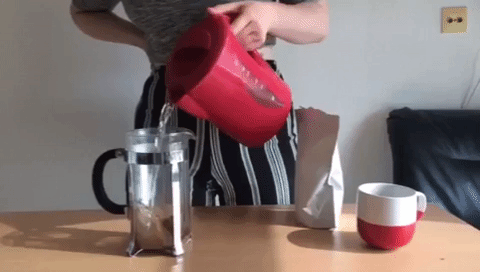 Get your weekly karma points
Sign up for our newsletter. Every week, our founder Mathys will send you the best stories about the world of doing good.
Your email will not be used for other purposes
More Stories
The Intercept has just released "A Message From the Future," a short science fiction movie narrated by Alexandria Ocasio-Cortez and drawn by Molly Crabapple, describing the coming "Green New Deal Decade," when Americans pulled together and found prosperity, stability, solidarity and full employment through a massive, nationwide effort to refit the country to be resilient to climate shocks and stem the tide of global climate change.

It's an astonishingly moving and beautiful piece, and deploys a tactic that has been surprisingly effective at mobilising large groups of people: creating a retrospective describing the successful project to inspire people to make it a success. Famously, this is the tactic that Jeff Bezos insists on at Amazon for the launch of new internal projects: ambitious internal entrepreneurs must submit a memo describing the project as a fait accompli, and if the description is compelling and exciting enough, they get the resources to make it happen.

But it's not just Amazon: as anthropologist Gabriella Coleman describes in Hacker, Hoaxer, Whistleblower, Spy, her seminal 2014 study of Anonymous, this is how Anon ops get started: an individual Anon makes a video announcing victory in some op that hasn't taken place yet, and if enough other anons are inspired by it to make it happen, then it happens.

In her article accompanying the video, Naomi Klein describes the audacity of other projects on this scale, like FDR's New Deal, and how much skepticism they were met with at their outset -- and how, as the vision caught on, it spread like wildfire through the population, so that something that was once impossible became inevitable.

"One reason that elite attacks never succeeded in turning the public against the New Deal had to do with the incalculable power of art, which was embedded in virtually every aspect of the era's transformations. The New Dealers saw artists as workers like any other: people who, in the depths of the Depression, deserved direct government assistance to practice their trade. As Works Progress Administration administrator Harry Hopkins famously put it, 'Hell, they've got to eat just like other people.'

Through programs including the Federal Art Project, Federal Music Project, Federal Theater Project, and Federal Writers Project (all part of the WPA), as well as the Treasury Section of Painting and Sculpture and several others, tens of thousands of painters, musicians, photographers, playwrights, filmmakers, actors, authors, and a huge array of craftspeople found meaningful work, with unprecedented support going to African-American and Indigenous artists.

The result was a renaissance of creativity and a staggering body of work that transformed the visual landscape of the country. The Federal Art Project alone produced nearly 475,000 works of art, including over 2,000 posters, 2,500 murals, and 100,000 canvasses for public spaces. Its stable of artists included Jackson Pollock and Willem de Kooning. Authors who participated in the Federal Writers Program included Zora Neale Hurston, Ralph Ellison, and John Steinbeck." (A Message From the Future With Alexandria Ocasio-Cortez

This article was originally published on BoingBoing under a Creative Commons license. It's written by Cory Doctorow. You can read the original article here.

Last February, Facebook announced that it will release a donation sticker feature on Instagram, giving its users the possibility to support charitable organizations through Instagram Stories.

The move is part of Facebook conglomerate's increasing interest in philanthropy. If you're on Facebook, you've probably already come across a fundraiser from a friend, asking you to donate to a charitable cause. Or maybe, you set one up yourself for your birthday. This Charitable Giving feature on Facebook raised over $ 1 billion as of November 2018.

It seems that Zuckerberg's plan is to transform his social media into the go-to virtual place for charitable donations. The endeavor appears nothing but noble and laudable.

On Facebook, donors enjoy a smooth experience that allows them to donate to their favorite organizations in a matter of seconds and to share their philanthropic efforts with friends and followers. Moreover, Facebook does all of this for free, having abolished its transaction fee in November 2017. There are no reasons to suspect that Instagram's upcoming donation sticker will be anything but another sleek and convenient feature of the Facebook family.

However, over the years, we have learned that when Facebook says "it's free", it might mean you're paying in currencies different than a direct monetary transaction.

Again, there are no reasons to suspect that it will be any different when it comes to Instagram's new donation sticker.

To explain my point, let's look at the bigger picture and consider the general direction Instagram is going towards. Last March, the social network rolled out a new feature called "Checkout", which enables users to buy directly from select brands on the platform.

Users can shop for items on their favorite brands' Instagram profiles and head to an in-app payment screen to order them, paying with the credit card information they have stored on the platform.

The aim is evidently to transform Instagram into an e-commerce app, adding another revenue stream next to the ad dollars.

Soon after Facebook announced the "Checkout on Instagram" feature, Deutsche Bank wrote a note to investors highlighting how the move could enable an "incremental $10 billion of revenue in 2021".

Wondering if the average user would be willing to hand payment data to Instagram, the Deutsche bank memo fconcluded that many people already use Facebook for charitable donations through the app's giving tools, and might be willing to extend that to shopping.

From this perspective, the upcoming Instagram donation sticker would certainly facilitate the acquisition of users' credit card information. After all, you're much more inclined to give up your payment data if a trusted friend asks you to support a human rights organization rather than if you have to buy the umpteenth pair of sneakers from a large, anonymous corporation. But, of course, once your credit card number is stored in the app that alluring pair of sneakers becomes literally just a click away...

In a way, it seems that Facebook will use philanthropy as a lubricant oil to ease its transition from a social media platform to an e-commerce one.

I'm not saying that this is the only reason Instagram is adding a donation sticker to its deck (they also just like to monopolize your digital life) or that the donations made through it will be tainted. This is just an invitation to reflect on the way social media are reshaping the world of philanthropy and whether we like it or not. Full disclosure: one of the reasons I've been thinking about this is that also here at Kinder we're trying to build some digital tools to make donations to charities more convenient and rewarding.

Obviously, we don't have Facebook's firepower so I hope that Facebook's donation tools will continue raising generous amounts of money. It's just that they're also part of the company's bigger expansion plans. Since philanthropy really is a noble undertaking, it would just be better if the donation tools were clearly separated from Facebook's more commercial functionalities.

But Instagram's donation sticker has yet to be implemented on the platform, so there's still plenty of time to fully remedy the situation.

Credit header image: Wikipedia

In March 2019, Mozambican professor Emília Nhalevilo took office as dean of the recently-created Púnguè University, becoming thus the first women to ever lead a public university in the African country.

She was nominated by President Filipe Nyusi, but the decision about the recently-created universities was announced by the Council of Ministers on January 29. Nhalevilo will remain in office, in principle, for a period of four years.

Born in Nampula, the most populous province in Mozambique, Nhalevilo holds a doctorate and master's degree in education from the University of Perth, Australia, and a bachelor's degree in science education from Pedagogical University (UP).

From 2005 to 2007, she worked as Professor at Curtin University of Technology, in Australia. In 2008, Nhalevilo became the head of the chemistry department at UP, and then took office as deputy director of the Center for Mozambican Studies and Ethnoscience, a research center at the same institution.

In 2017, she was a fellow with the Fulbright Visiting Scholar Program at the Steinhardt School of Culture, Education, and Human Development of New York University, in the United States.

Nhalevilo was the vice-dean for research and extension in the UP since 2018.

As dean of a public university, her current position is equivalent to that of a minister in Mozambique.

Eliana Nzualo, an activist and feminist blogger, says Nhalevilo's appointment is a historic moment:

Nhalevilo is the first woman to lead a Public University in Mozambique. Congratulations to the Magnificent Rector! For more women in the Universities, For more women in the lead!

In Mozambique, women still face challenges in accessing leadership and management positions. But there have been improvements: in the current parliament, for example, both the president of the assembly and the heads of the two largest political caucus are women.

But gender inequality still prevails in the southern African country.

The UNDP's 2016 Africa Human Development Report, whose title is "Accelerating Gender Equality and Women's Empowerment in Africa," revealed that Mozambican women and girls continue to suffer from inequalities, such as poor access to justice, poor access to school and health care, and repeated acts of violence.

In 2018, there were 25,356 cases of domestic violence in Mozambique, of which 12,500 were against women and 9,000 against children.

Mozambique ranks 10th in the world for child marriages, according to a UNICEF report from 2015. The organization defines "child marriage" as a marital union in which at least one person is under the age of 18.

In mid-2018, pilot Admira António became the first woman to ever captain a flight in Mozambique, while in December 2018, an all-female flight crew took to the skies for the first time.

In 2014, when the Police of the Republic of Mozambique turned 39, Arsenia Massingue was presented as the first woman general in the corporation.

This article is republished from Global Voices. It's written by Alexandre Nhampossa and translated by Dércio Tsandzana. You can read the original article here.